Kind of a minor issue, but I wanted to ask any owners out there about the DesertX tool kit. The owner's manual shows 2 allen wrenches and a screwdriver… is that really it? Coming from a number of KTMs that all came with an extensive stock tool kit, this seems thin. Thanks.


Sent from my iPad using Tapatalk Pro
Stock tool is really poor.
I use a professional toolset by touratech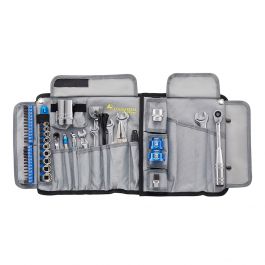 The professional motorbike tools for KTM, Husqvarna and Ducati motorbikes for on the road and for the workshop at home. Whether on a big motorbike trip or a small motorbike tour, with this 68-piece motorbike tool kit you can carry out the necessary work a

www.touratech.com